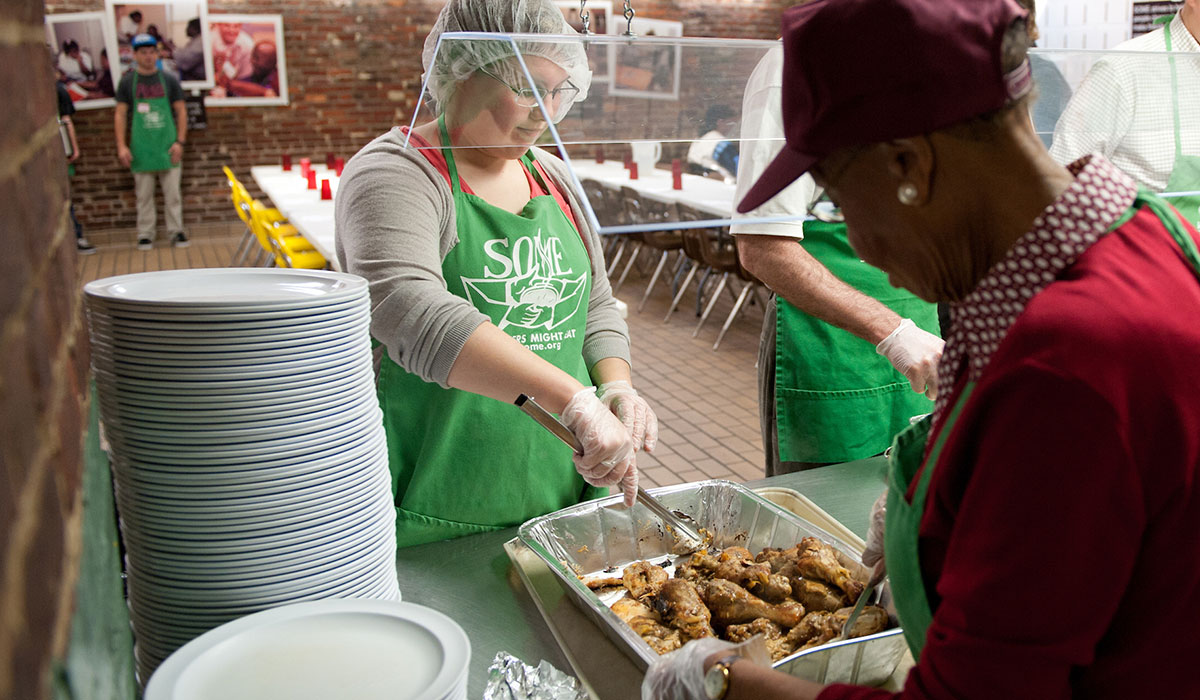 SOME (So Others Might Eat) helps vulnerable neighbors in Washington, DC, break the cycle of homelessness through

comprehensive and transformative services

.
How Volunteers Help
At SOME, volunteers prepare and serve breakfast or sort donations and meal-prep for the next day. Volunteers can also serve on campus by making bagged lunches that will be taken to SOME for distribution.
Times/Transportation
Breakfast
Tuesdays, Wednesdays, Thursdays, 6:30 - 9 a.m.
Meet at Campus Ministry Office at 6:15 a.m.
Van transportation is provided
Afternoon
Thursday from 1 - 3:30 p.m.
Meet at the Campus Ministry Office at 12:45 p.m.
Van transportation is provided.
Food Packaging On-Campus 
Wednesday morning at 7 - 8 a.m.
Mary Grace Raddell (rodellm@cua.edu)
Maggie Dressman (dressman@cua.edu)
Paperwork/Requirements
Space is limited. Please contact sign up via The Nest. Please show up on time at the specified meeting area. Please wear closed toed shoes and a hat.
Contact Information
SOME Breakfast 
Tuesday: Michael Ryan ryanmi@cua.edu 
Wednesday: Clare Finney (finneyc@cua.edu)
Thursday: Colleen Roche (rochec@cua.edu)
SOME Thursday Afternoons
Rita Rogers (rogersr@cua.edu)
Bonnie Lowrie (lowrie@cua.edu)
About SOME
SOME is an interfaith, community-based organization that exists to help the poor and homeless of our nation's capital. The organization meets the immediate daily needs of the people by providing food, clothing, and health care.
Learn More:
So Others Might Eat
71 O Street, NW
Washington, DC 20001
(202) 797-8806