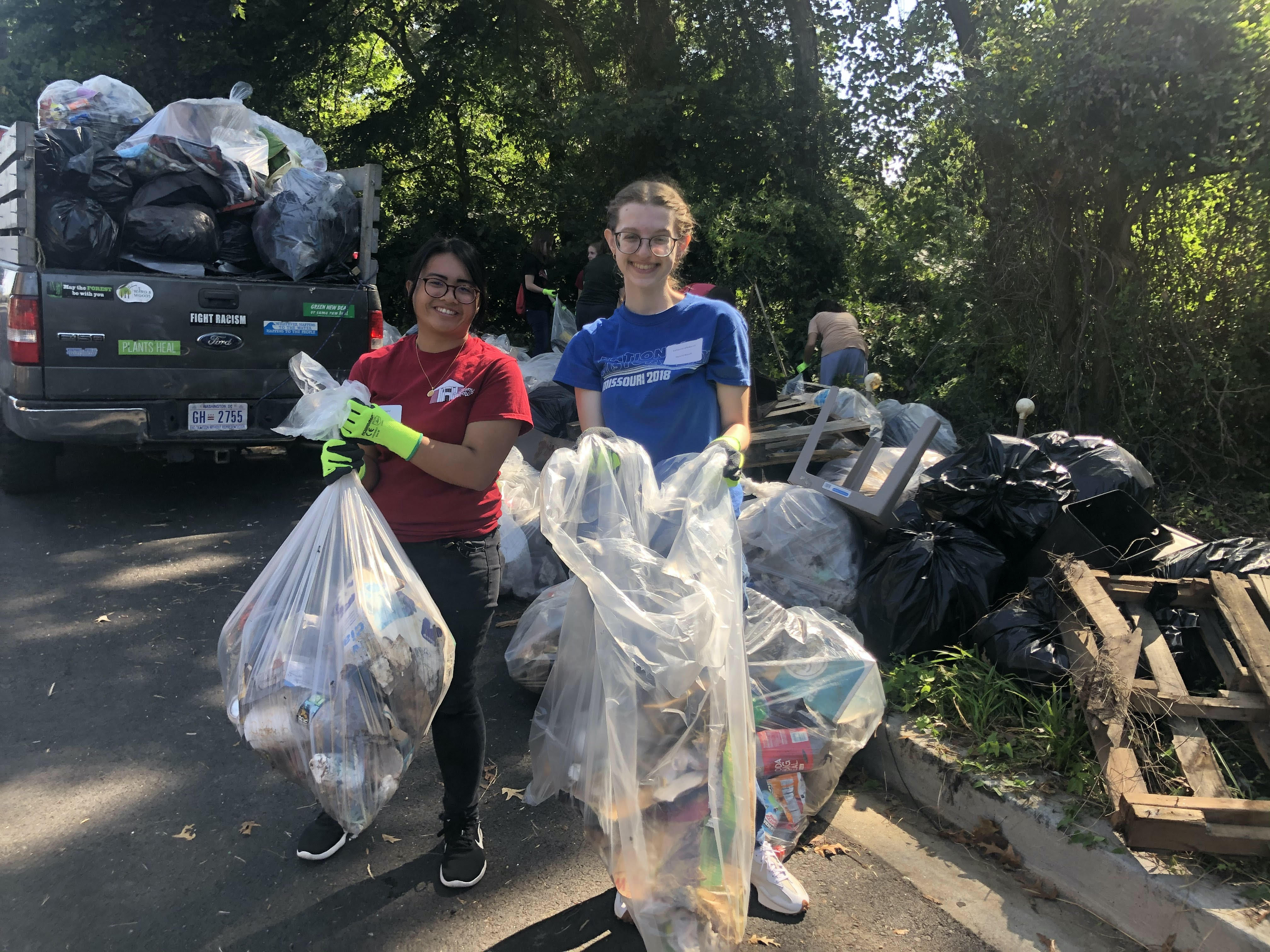 CARDINAL SERVICE CORPS
Cardinal Service Corps (CSC) is a group of undergraduate students that lead weekly service sites and seasonal events for the Brookland community.  Cardinal Service Corps members are passionate about service, social justice, and community engagement. In addition to service, the Cardinal Service Corps attends bi-weekly meetings to be in community and share food, to discuss social justice issues, and to learn how to advocate for marginalized populations.
CSC LEADERSHIP TEAM
Within Cardinal Service Corps, 8 members are chosen to be a part of the Leadership Team. The CSC Leadership Team is an intentional community with a focus on service, social justice, and leadership. In addition to their weekly Cardinal Service Corps responsibilities, the Leadership Team attends a mandatory summer training, leads CSC social justice training sessions, and serves as a resource for their fellow CSC members and the wider student body.
Cardinal Service Corps Responsibilities

1. Lead your weekly, monthly, or seasonal service site.

2. Attend short training session at the end of April.

3. Attend bi-monthly formation meetings, where we will discuss issues related to our service sites, learn about social justice issues, discuss Catholic Social Teaching, hear from guest speakers, etc.

4. Attend short training session at the beginning of the upcoming Fall semester.

5. Serve as a voice for students who are participating in community service. Provide Team Service with a student perspective and feedback on service events.

6. Be an advocate for the poor and marginalized populations we serve. Utilize additional resources and training you receive regarding social justice issues.

7. Be a source of positivity and enthusiasm to fellow students, as well as a resource. Be open and willing to address any questions that students may have.

CSC Leadership Team Responsibilities 

1. Arriving to campus early for D.C. Immersion Training*, assisting with Student Leader Service Day and New Student Orientation, and attending all service sites at least once.

2. Assisting in marketing and recruiting at Fall Fest and Odyssey Day

3. Scheduling one "office hour" a week to assist Team Service or work on a personal service project

4. Leading two Cardinal Service Corps meetings with a member of Team Service

5. Assisting Team Service in Cardinal Service Corps selection process for the following year

6. Take on a leadership role for major service and justice events: Student Leader Service Day, Fall Day of Service, MLK Day of Service, Hunger and Homelessness awareness week

7. Meet with Team Service once a month to offer feedback, in addition to attending bi-monthly service leader meetings.

8. Plan and facilitate other activities and programs for Service Leaders, as needed. This can include social justice programming, bonding activities, retreats, etc.

9. Serve as a voice for students who are participating in community service. Provide Team Service with a student perspective and feedback on service events.

10. Be an advocate for the poor and marginalized populations we serve. Utilize additional resources and training you receive regarding social justice issues.

11. Be a source of positivity and enthusiasm to fellow service leaders, as well as a resource. Be open and willing to address any questions that leaders may have.

Application Process

*If you are interested in being a CSC Leader, please contact cua-service@cua.edu as Campus Ministry does accept applicants year round*

The application for Cardinal Service Corps opens in April and can be found below. Any undergraduate student enrolled in the following fall semester is eligible to apply. The application consists of short-answer questions and service site preferences.

In order to be considered for the Cardinal Service Corps Leadership Team, the applicant must fill out a series of additional questions expressing their interests, goals, and availability.

After applying, each applicant is interviewed by a Community Service staff member.

Apply Now

Deadline: Monday April 11th, by 11:59pm

Interviews: Monday April 11 - Wednesday April 13th

Application:Google Form