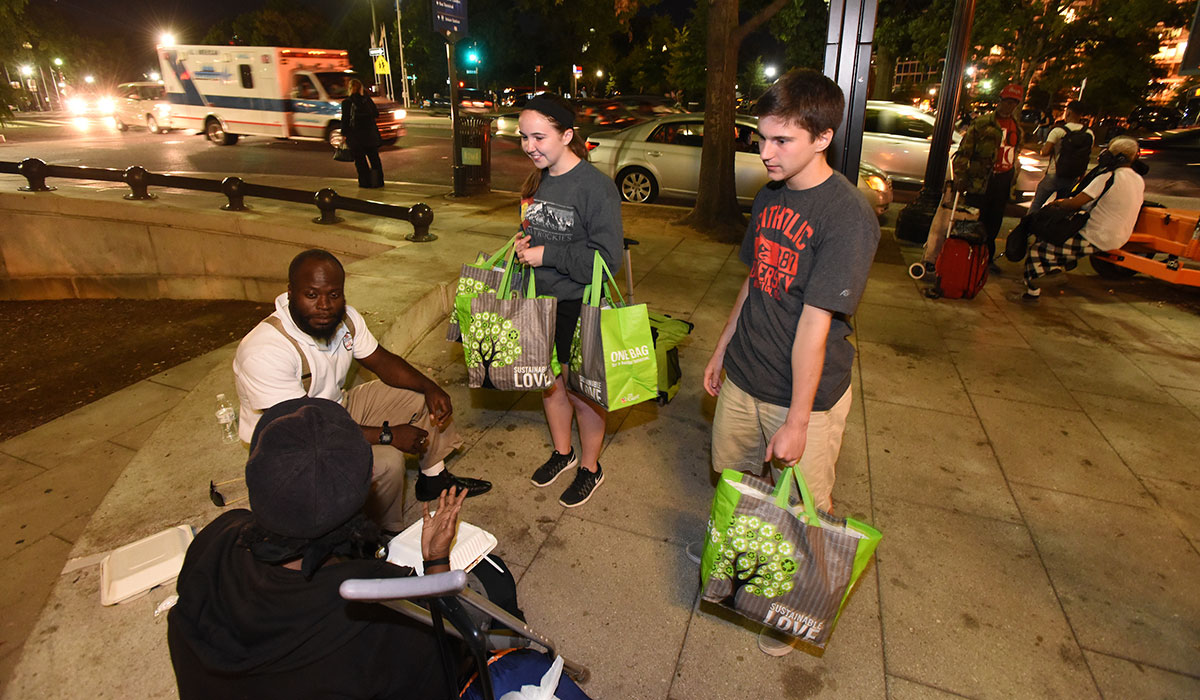 How Volunteers Help
Come spend time with our homeless friends in downtown D.C.!
Food, which is donated by the University dining hall, is handed out to the homeless by students. Help share our resources with those in need.
Many homeless are not only hungry, but just want someone to talk to, so be ready to hear some great stories!
Times/Transportation
Thursday: 7 to 9 p.m.
Meet at the Campus Ministry Office at 7 p.m.
Van transportation provided
Friday: 3:30 to 5:30 p.m. 
Meet in front of the P.O.D. (Lower Level of the Pryzbyla Center) at 3:30 p.m.
Bring a SmarTrip card ($6.00) and a backpack to carry food.  
Paper Metro Cards will cost about $7.00
Sunday: 2 to 4 p.m.
Meet at the Campus Ministry Office at 2 p.m.
Van transportation provided
Paperwork/Requirements
No sign-up needed. Please contact the student leader and simply show up on time at the designated meeting area.
Contact Information
Thursday
Maggie Reardon (reardonm@cua.edu)
Carolyn Albright (albright@cua.edu)
Monica Wallace (wallacem@cua.edu)
Friday
Amanda Thoennes (thoennes@cua.edu)
Trystan Crichton (crichton@cua.edu)
Sunday
Grace McClatchy (mcclatchy@cua.edu)
Joseph Peluso (pelusoj@cua.edu)
Kerry Silidker (silidker@cua.edu)
Frequently Asked Questions for Sponsors
What do I make?

Every Thursday we aim to make 40 bag lunches. Lunches include: sandwiches (preferably meat and cheese), chips, fruit, water, or baked goods.

Requirements: all food is individually wrapped. If fruit or snacks are given, please make sure they are soft; our friends' teeth can be sensitive. Bananas, soft granola bars, and chips are all good ideas.

How much will it cost?

40 lunches usually cost between $20-30.

How long will it take?

Around two hours: one hour to shop and one hour to make.

When should meals be done by?

Before 6:30 pm on Thursdays, delivered to the Campus Ministry Office.

Who do the meals serve?

Meals are delivered to our friends on the street near Union Station.

Can I attend the food run?

Yes! Review the information on this page for more details.
---