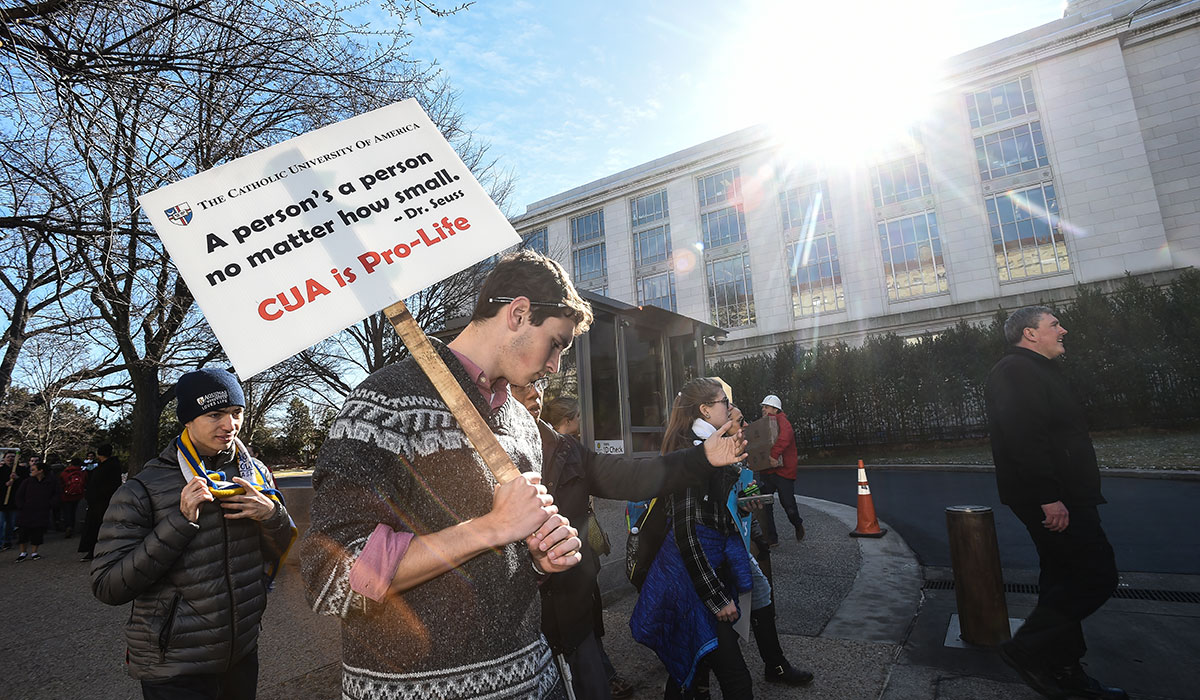 March for Life 2021
We look forward to praying in solidarity, as a Catholic University community, for a consistent ethic of life during the annual March for Life. 
Due to COVID-19 the March for Life has moved to a virtual format this year.  Please read the following statement from Fr. Jude regarding our commitment to a consistent ethic of life, while not being able to march in person.
Campus Ministry will be hosting a variety of virtual events, so please join us!
Want to make a March for Life Poster to be placed around campus?  Stop by the Office of Campus Ministry from January 25-January 27 for supplies!  Return your completed poster on January 28 and we will place it around campus on the day of the March for Life--January 29!
Watch the Vigil for Life at the Basilica on January 28 at 8:00pm
Participate in the Virtual Youth Rally for Life hosted by the Archdiocese of Washington on January 29 at 8:30am
Register to attend the March for Life virtually, starting at 11:00am on January 29
Pray a Rosary for Life on Zoom with the Knights of Columbus! 
Join the Campus Ministry Staff to pray a Divine Mercy Chaplet for Life on January 29 at 3:00pm
Attend the Friday Night Event with The House and close the evening with Night Prayer dedicated to the Pro-Life Movement on January 29 at 7:30pm
Dear Students -

Since arriving on campus 10 years ago, I have had the privilege to walk with our students, President and Mrs. Garvey, our faculty and staff in every single March for Life (MFL). It is truly disappointing to know that the 48th Annual March for Life will have to be a virtual event.   We've marched on bright sunny anniversaries and on overcast days.  We've walked in blizzard conditions and rainy as well.   But, this year because of the COVID pandemic the organizers of the March made the wise decision to limit in person participation to a very select group of national representatives.

As a University Community let us join these representatives in solidarity through our prayer and sacrifices on Friday, January 29, 2021.   Our inability to march with our customary force and energy does in fact leave us the opportunity to grow in grace.   It gives us the privilege to offer our disappointment and sadness as an oblation to the Lord.  We can ask the Lord to take our sacrifice and join it to the eternal Sacrifice of His Son on behalf of the pre-born children and their mothers and fathers.  Friday, January 29th affords us the opportunity to join our prayer with fasting for doctors and nurses not to be compelled to participate in abortions.  We can pray for the conversion of politicians' hearts and for those in the abortion industry.

January 29th can be a very powerful testament to others on our campus who do not understand the meaning and history of the March for Life.  It may be the moment for a calm, loving dialogue with others who struggle much with the Church's teachings. Who knows what experiences some of your peers have had in life?  This may be the moment when a loving, non-combative, non-judgmental dialogue rooted in prayer and sacrifice might open up another's heart to the beauty and sacredness of human life.  It might be a time of great healing.

This may in fact may be – if we are open to it –one of the most important March for Life anniversaries that we ever experienced!

Peace and prayers,

Fr Jude
Please contact Amanda Ceraldi, Associate Campus Minister for Women's Ministry and Pro-Life Hospitality, at ceraldi@cua.edu or call the Office of Campus Ministry at 202-319-5575 if you have any questions or concerns.
---