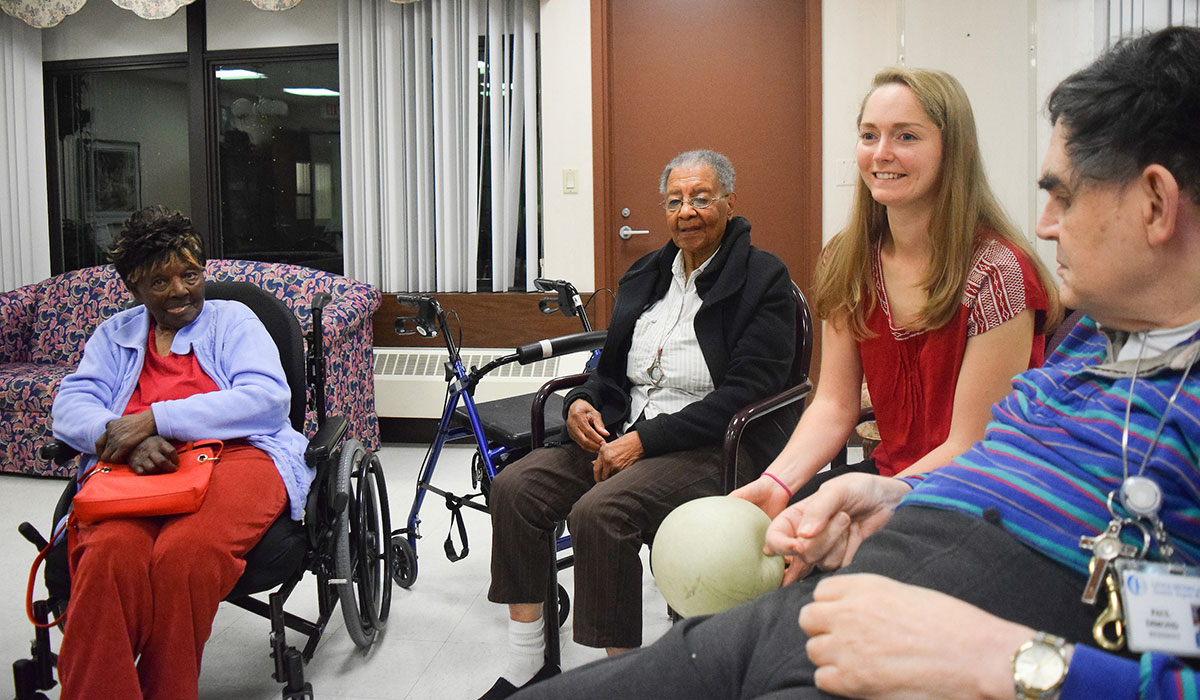 How Volunteers Help
Dinner Visits
Make a difference in the life of an elderly person by doing activities and visiting with the residents. Engage in conversation, play bingo, or share your gifts and talents with residents by singing or playing music for them.
Annual Dances & Showcase
Also, join us at the Annual Fall Dance for a night of dancing, food and fun!  An annual talent showcase is held in the spring.
Times/Transportation
Dinner Visits
Monday to Thursday: 6:45 to 8 p.m.
Meet at the Campus Ministry Office at 6:45 p.m.
Walking Directions:
Right on Harewood Road
Walk past the John Paul II Cultural Center
Left on driveway with the sign "Jeanne Jugan Residence"
Paperwork/Requirements
Dress Code: Please wear modest attire. No shorts (unless long), no short skirts, halter tops, sleeveless shirts or anything low cut or immodest. We are guests in their home and need to be respectful.
No sign-up needed. Please contact the student leader and simply show up on time at the designated meeting area.
Contact Information
Monday: Monica Shaffern (shaffern@cua.edu)
Tuesday: Anna McGovern (mcgoverna@cua.edu)
Wednesday: Kathleen King (kingka@cua.edu)
Thursday: Ethan Stickler (stickler@cua.edu)
Learn More
Little Sisters of the Poor
4200 Harewood Rd., NE
Washington, DC 20017
(202) 269-1831