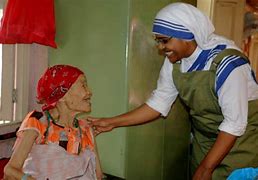 About Missionaries of Charity
Missionaries of Charity is a religious congregation established by Saint Teresa of Calcutta. They open their homes and provide refuge for those most vulnerable and marginalized by society.
What Volunteers Do
Students will share in mass and assist with care of the elderly residents.
Times
Wednesday: 7:45 to 10:30 a.m.
Transportation
Meet in Campus Ministry at 7:45 a.m. Van transportation is provided.
Sign Up
Space is limited. Please sign up via The Nest.
Contact Information
Learn More
Missionaries of Charity
2800 Otis St. NE
Washington, DC 20018
Mother Teresa's nuns still quietly serve the poor at D.C. convent