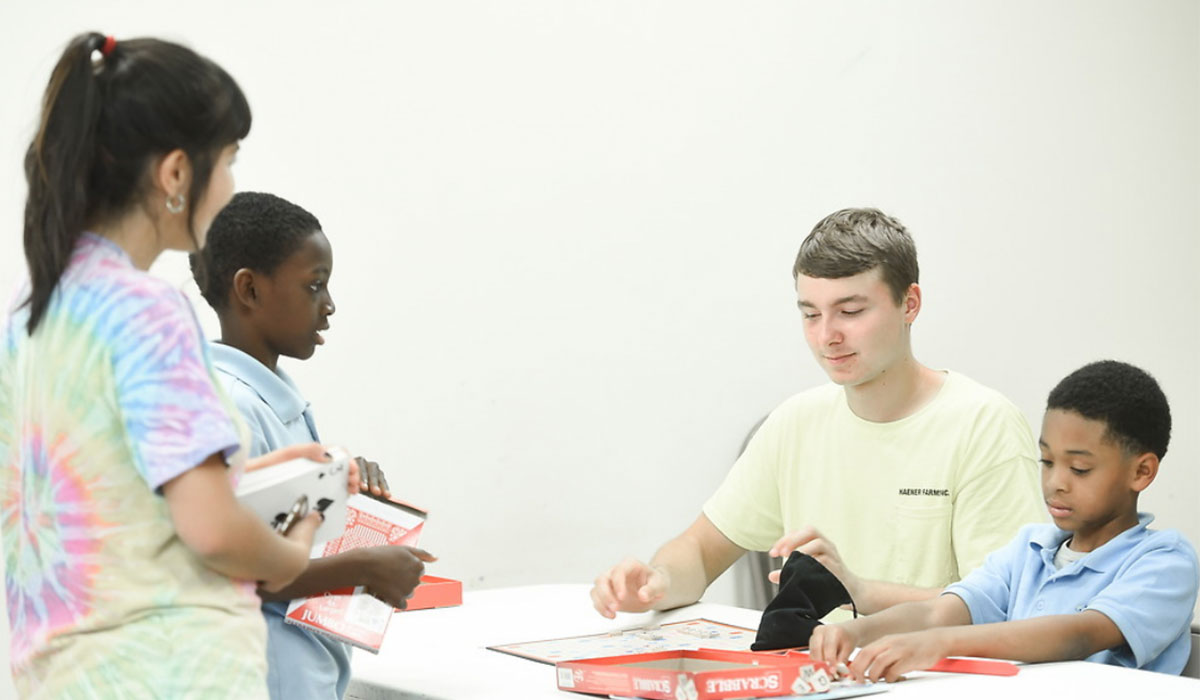 What is the DC Reads program?
DC Reads is a tutoring program where elementary and junior high schools and community programs partner with local universities in the District of Columbia. College students visit these sites a few times a week to tutor the students and help them improve various academic skills, including reading, writing, math, and technology. 
Do I have to have experience tutoring?
No you do not need to have previous experience tutoring. However, you do need to have the desire and willingness to work with children. 
How am I trained to become a tutor?
You will attend the mandatory Tutor Training Day in which you will learn and develop basic tutoring skills from how to build relationships to the foundations of student behavior management. You will also have to attend site-specific training and orientation where you will be instructed on your site's curriculum, rules, procedures, and materials. The Graduate Assistant will e-mail you information about your site orientation and training dates and times after you have turned in your application and have been placed with a specific site. Each DC Reads site has a different orientation and training schedule. Tutors must also participate in on-going training throughout the semester by attending monthly workshops. The schedule can be found on the Current Tutor page. 
I am not awarded work-study, can I still become a tutor?
Yes, you can! Volunteers are more than welcome, but you must sign a contract with DC Reads saying that you will tutor for the whole semester. 
If I have not been awarded work-study, can I still get paid?
Unfortunately, paid positions are only available to work-study students. Volunteers are always welcome. 
Can I tutor as a class credit for my education classes?
Yes, but, just like the volunteers, you must sign a contract with DC Reads saying that you will tutor for the entire semester. Class credit is dependent upon your CUA professor. 
How am I paid if I am a work-study student?
You are paid for your tutoring time (which does not include travel time). Options of direct deposit (your money is put directly into your specified bank account) or check are available to you. Direct Deposit forms are found in the Payroll office (130 Leahy). All paychecks can be picked up in the Campus Ministry Office. 
What do I do if I have trouble with my student or tutoring site?
If you are having trouble with the student you are tutoring, speak to your site supervisor. He/She is there to help with any concerns and disciplinary issues you may have. Your DC Reads team leader is also a resource for you as well. If any other concerns persist, please contact the DC Reads Coordinator. 
Can I work at two DC Reads sites?
Yes, you may work at multiple sites. You will need to work with the DC Reads Coordinator to work out your DC Reads schedule. One day a week options are also available. <
What is DC Reads Snow Policy?
If CUA is closed due to inclement weather, DC Reads is also canceled (even if the tutoring site is open). If CUA is open, tutoring may be canceled at some or all of our sites. Visit the application and forms page for an updated snow policy for each of our sites.