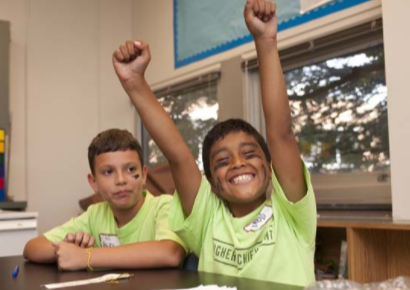 Program Description
Mission: Higher Achievement's mission is to develop academic skills, behaviors, and attitudes in academically motivated and underserved middle school children to improve their grades, test scores, attendance, and opportunities – resulting in acceptance to college preparatory high schools.

Subjects Tutored: Reading, Math, and Technology
Type of Tutoring: Small group tutoring, one-on-one mentoring
Other Information: Higher Achievement serves 5th through 8th grade children.
Location
Brookland Middle School
1150 Michigan Ave. NE
Washington, DC 20017
Transportation
Walking
Directions:
Head Southeast toward Michigan Ave.
Turn Left onto Michigan Ave.
Destination will be on your Left.
Weekly Tutoring Schedule

View the weekly DC Reads schedule to find the best times to help out at our partner sites.

Learn More
"I have never seen so many children excited to see the DC Reads tutors.  I may be a complete stranger to some of these students, and yet they hug me and want to get to know me." -Charlotte, DC Reads Tutor