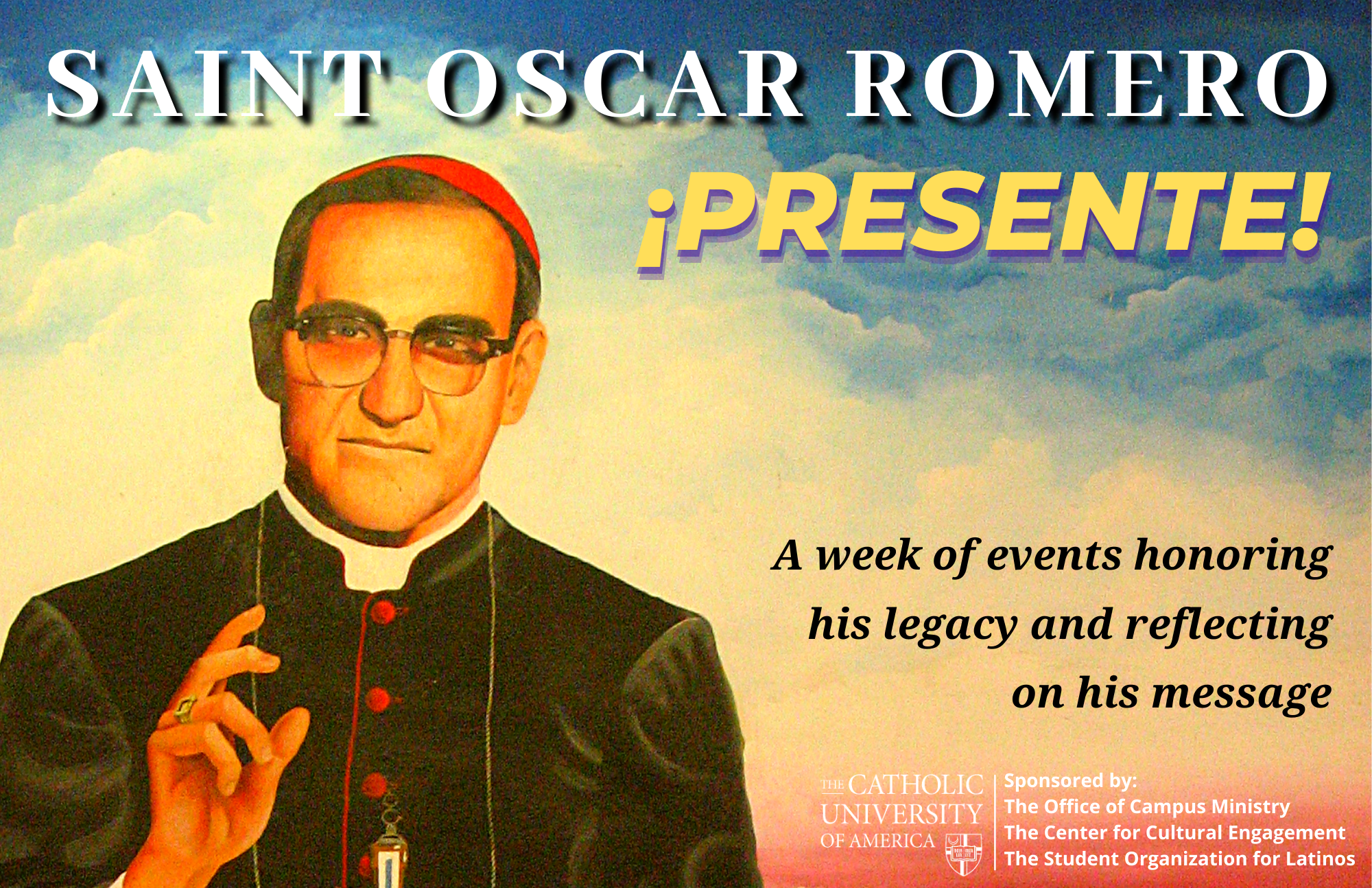 S

t. Oscar Romero Week
March 23 - 26, 2021
The Witness of Oscar Romero
Tuesday, March 23rd  |  12:00 to 1:00 on Zoom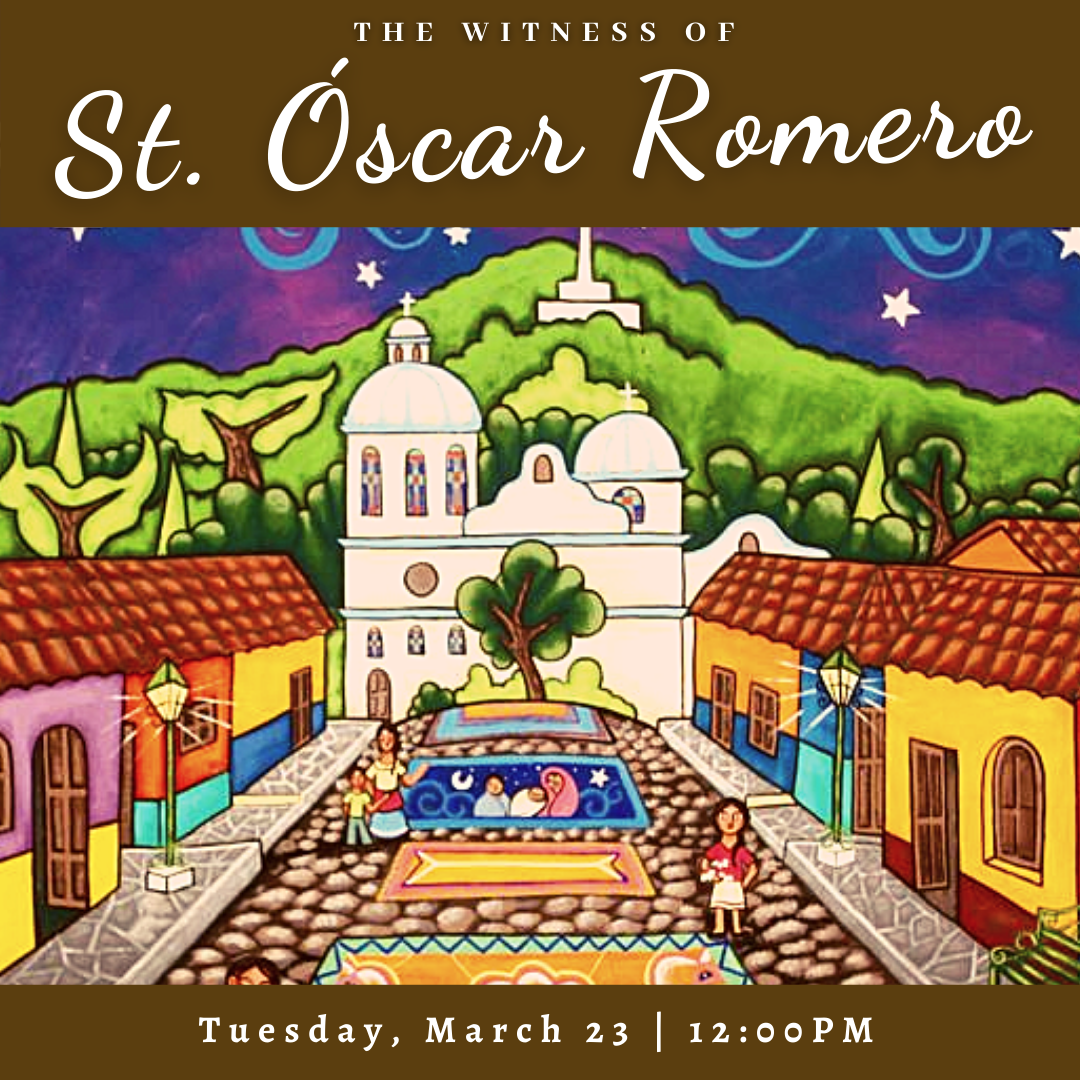 A presentation by Matthew Whelan, Ph.D., author of Blood in the Fields: Oscar Romero, Catholic Social Teaching, and Land Reform (Catholic University of America Press, 2020). In this eye-opening work, Whelan argues that Romero's advocacy for justice in the distribution of land - a commitment with deep roots in the Christian tradition - illumines the meaning of his martyrdom. In this way, struggles over access to land also became struggles over what it means to be human, to live in a society with others, and even to be a follower of Christ.
This event will be a webinar-style presentation by the author followed by a question and answer session.  This event is open to all members of the campus community, as well as family and friends. 
Click Here to access the zoom event. The link will be posted the day of the presentation.
---
St. Oscar Romero Memorial Mass
Wednesday, March 24th  |  12:40 in St. Vincent's Chapel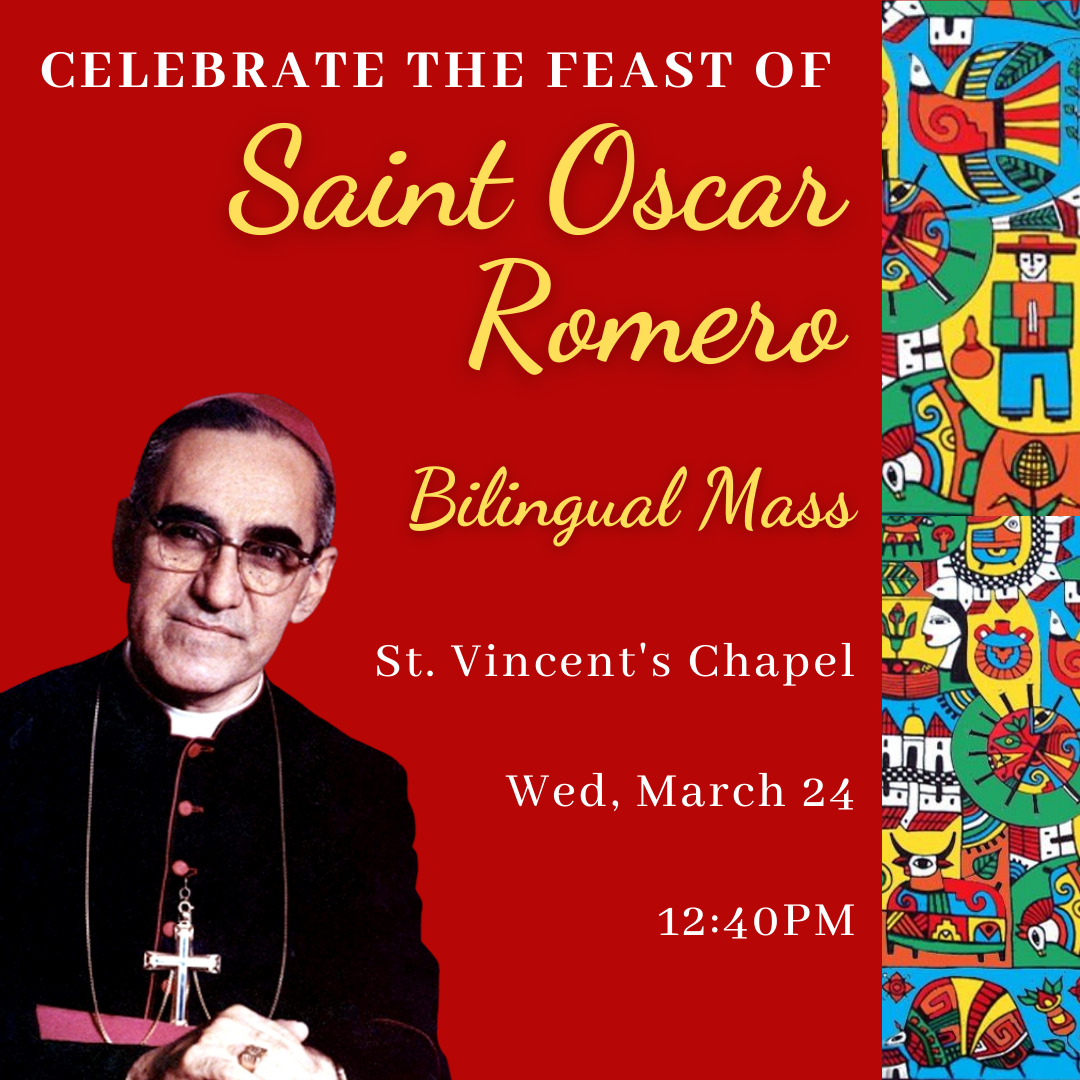 March 24th, 1980 was the day of the assassination of Archbishop Oscar Romero. Today, we celebrate his feast day on that same date.
Join us in St. Vincent's Chapel for a bilingual mass, celebrating the legacy of this defender of human rights and champion of the poor.  Due to Covid, capacity in St. Vincent's Chapel is limited to 50 people. 
Please RSVP here to reserve your spot. 
---
Oscar Romero: Yesterday & Today
Thursday, March 25th  |  7:00 in Hannan 108 and on Zoom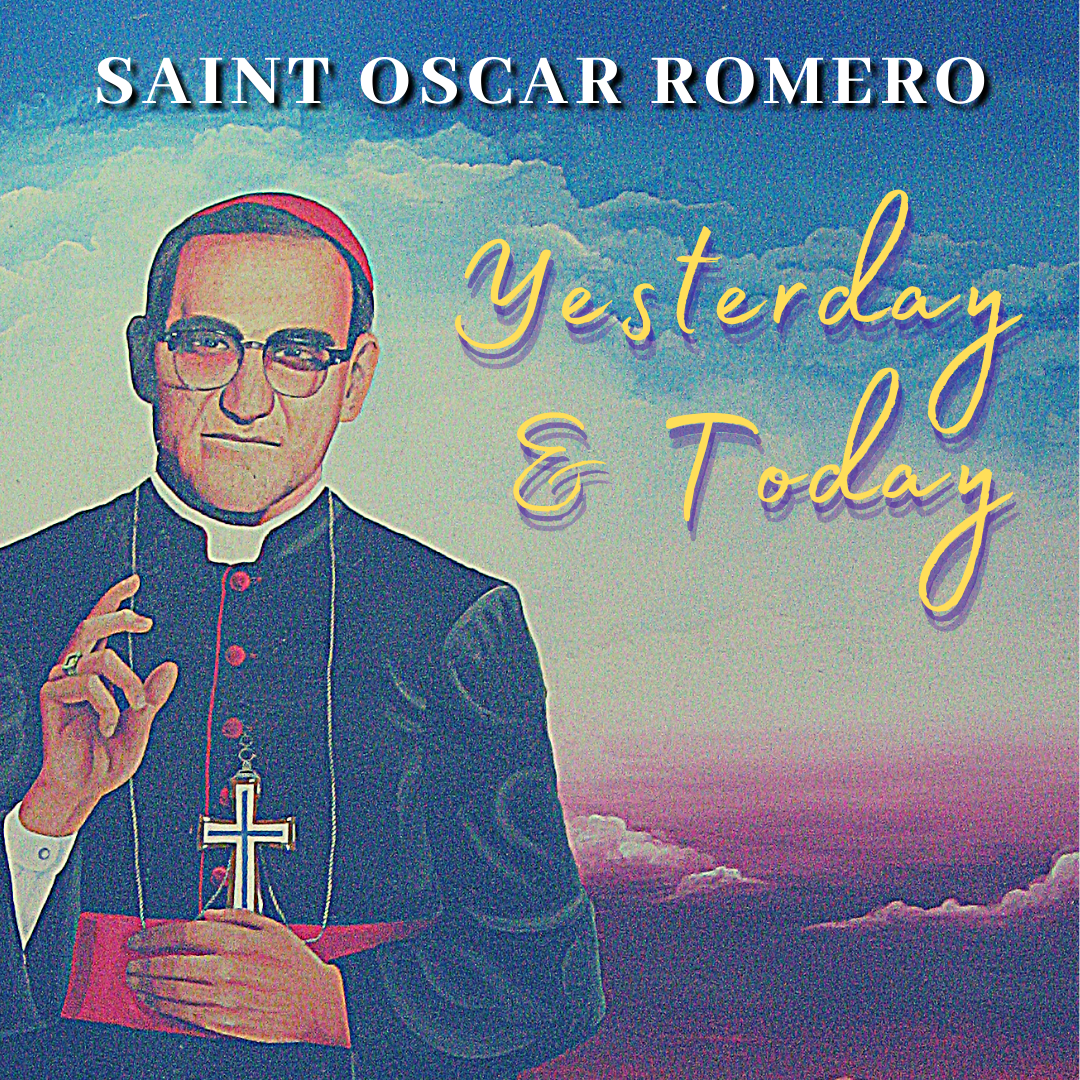 Join us for a fascinating discussion on the impact of St. Oscar Romero, both in the time that he lived, and in the present. We will have four panelists bring four unique perspectives to this discussion.
Panelists
Franciso Mena Ugarte: Executive Director of CRISPAZ
Walter Mena: Labor Rights Community Organizer
Ena Peña: Former Consul General of El Salvador in DC
Brian O'Malley: CUA Student who visited El Salvador in 2019
For those who are able to join us in person, we will be having a traditional Salvadoran dinner of pupusas. For those joining us virtually, the zoom link can be found here.
---
El Salvador: Arts & Crafts
Friday, March 26th  |  3:30 - 5:00 in the CUA Center for Cultural Engagement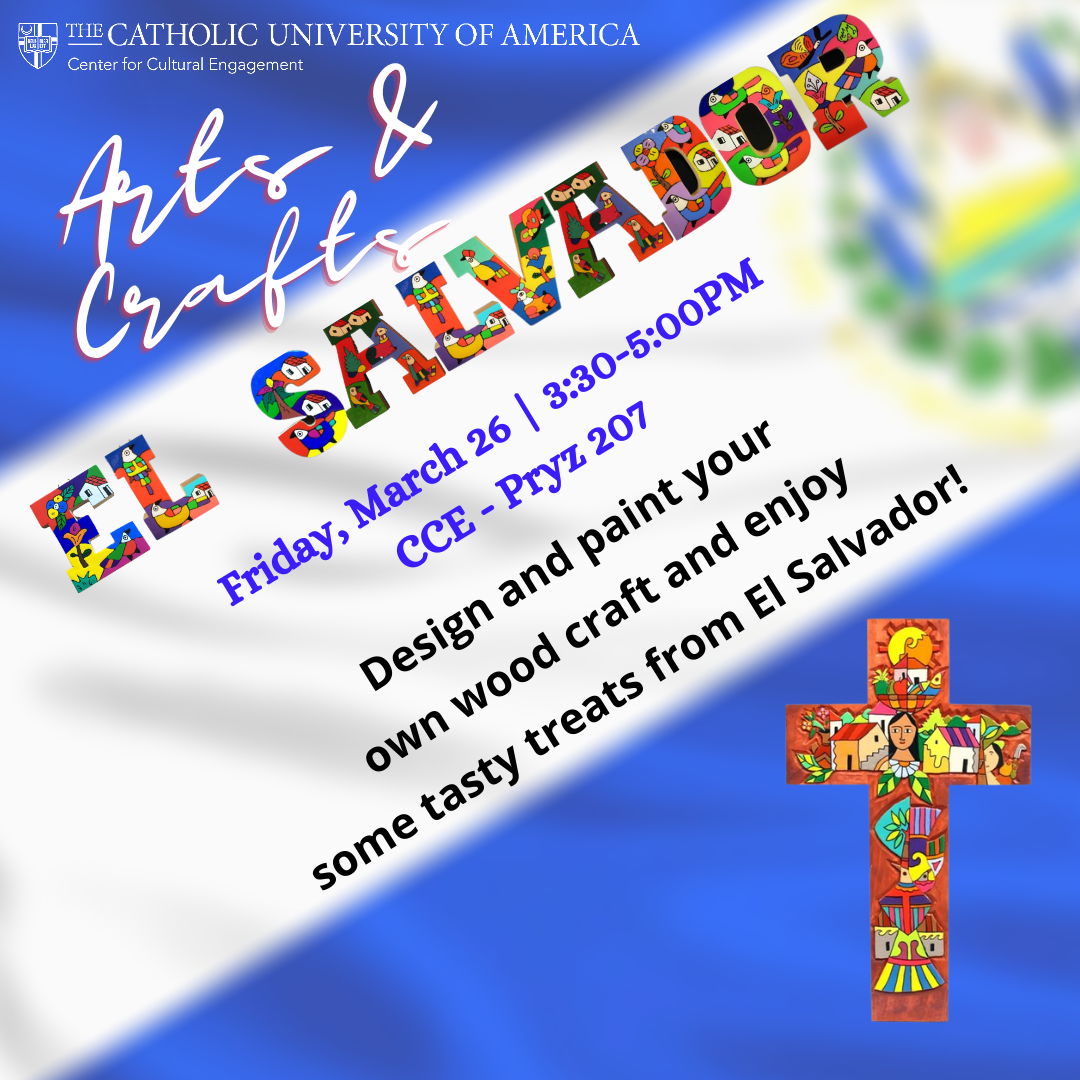 La Palma is located west of the department of Chalatenango, El Salvador, and is well-known for its wood crafts and designs in Naïf art. These are the creation of Salvadoran painter Fernando Llort, who also designed the mosaics of the Metropolitan Cathedral in San Salvador.

Join us! Design and paint your own wood craft and enjoy some tasty treats from El Salvador!
---
 Any questions regarding these events can be directed to Harrison Hanvey, at hanvey@cua.edu.