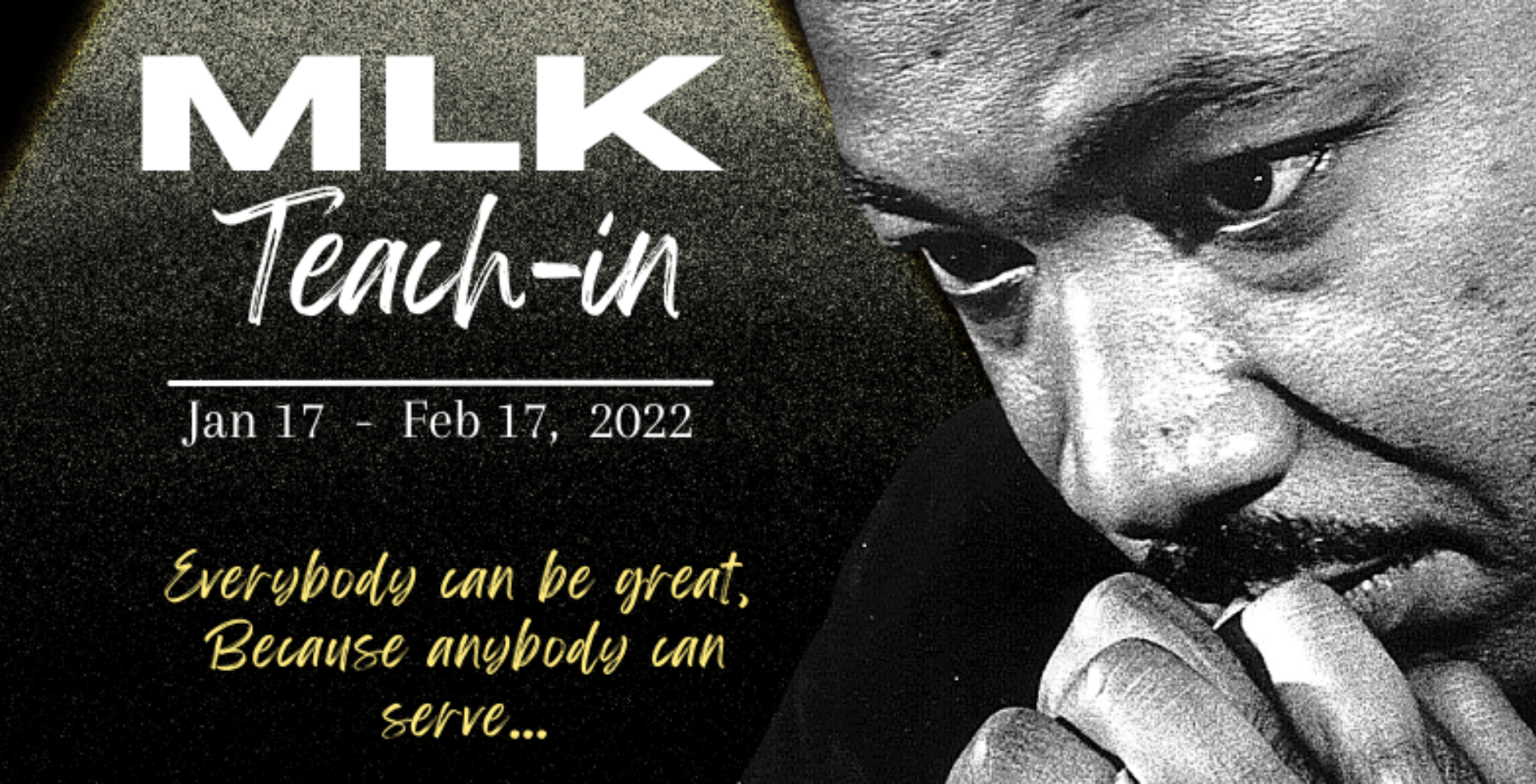 The Martin Luther King Teach-In is an opportunity for members of Catholic University to learn about, and advocate for, justice as Dr. Martin Luther King, Jr. did during his life. Join us as we honor the legacy of Dr. King throughout the week. There will be speakers, service activities, prizes, and more!
Dr. King tells us, "The ultimate measure of a person is not where they stand in moments of comfort and convenience, but where they stand at times of challenge and controversy."
Week of Events: More coming soon!
January 17- February 17
Stretch your legs and take a walking tour around Catholic U.'s campus. It consists of thirteen stops where you can find photos and stories of important people and events in our school's history of civil rights. Click here to follow the tour.
---
Monday, January 17, 2022
Due to the recent surge in COVID-19 cases, and in accordance with the University's plan to Keep Catholic Safe, CUA's organized 2022 MLK Day of Service has been canceled.
Members of the Catholic University community will spread a day in service to neighbors on Martin Luther King Jr. Day. For more information and registration, click here. 
Individuals requesting accommodations for disabilities should contact Team Service.
---
Alumni Panel Discussion
Monday, January 31, 2022
Heritage Hall; 6:30pm
Come join BSA, the CCE, Campus Ministry for an Alumni panel discussion with open remarks by President Garvey. Please RSVP through the NEST, advance registration is required. 
---
PWI Experience
Thursday, February 3, 2022
Caldwell 109; 6-8pm
We welcome all BIPOC (student, faculty and staff) who want the chance to speak with BSA about their experience at a predominantly white institution (PWI). The goal of this event is to be 100% safe space and we hope that you all can join. Sign up on the
NEST
---
Empowering Leadership
Wednesday, February 2nd 
Location: Caldwell Auditorium; 7:30 to 9:00 PM
Special speaker Trovon Williams will be joining the CU community to speak about the history of the NAACP and how to be an active advocate on a college campus! Join your fellow students to learn more about causing change.
---
The Wisdom of Sr. Thea Bowman For a Church In Crisis
Tuesday, February 15th 
Location: Pryz Great Rooms, 12:30pm
Join us in this joint Catholic U. and Howard University event with Rev. Williams as we discuss Sr. Thea Bowman and about her legacy, lunch will be provided. Sign Up will be on The Nest because there will be limited seating. Email bustamantej@cua.edu with questions.
---
CUA on Tap: Cardinal Gregory
Thursday, February 17th 
Location: Pryz Great Rooms; 7-9 PM
Come and join your Resident Ministers and Cardinal Service Corps for a fun night with Cardinal Gregory! Join us in the Pryz Great Rooms for food, fun, and a talk from Cardinal Gregory! Look out for more information from your Student Ministers!
---
Don't Touch My Hair
February 17, 2022
Location: Zoom
In honor of Black History Month, join the Black Student Alliance in the Iota Iota Chapter of Delta Sigma Theta Sorority, Incorporated as we "comb" through time and experience different Black hair styles through the years. There will be an opportunity to win 2 amazing hair care prize packs. RSVP is on the Nest for the zoom link
---
Black History Month Jazz Night
Thursday February 24th 6-8 PM
Location: Hannon 108
The Catholic U Community with be hosting a jazz night for students to come together and dance to the music of the EJB Quartet. Join the CU community to learn more about jazz and its history! Sign up on The Nest
---
National Museum for African American History Excursion
Friday February 25th Noon
Location: Meet at Brookland Metro, enter NMAAHC at 1 PM
As part of the MLK Teach-In, a DC Day trip will be hosted to the National Museum for African American History and Culture. This trip intends to facilitate education on the  African American experience throughout history; Dr. King's impact can be seen explicitly in the museum, as well as the ripple effects he created after his life. 
Limited Tickets available contact

bodger@cua.edu

to see availability. Light Refreshments.
---
"Everybody can be great … because anybody can serve. You don't have to have a college degree to serve. You don't have to make your subject and verb agree to serve. You only need a heart full of grace. A soul generated by love."
---
Documentaries of Dr. Martin Luther King Jr.
Dr. Martin Luther King Jr.: A Historical Perspective- An Authorized Biography of a Civil Rights Hero