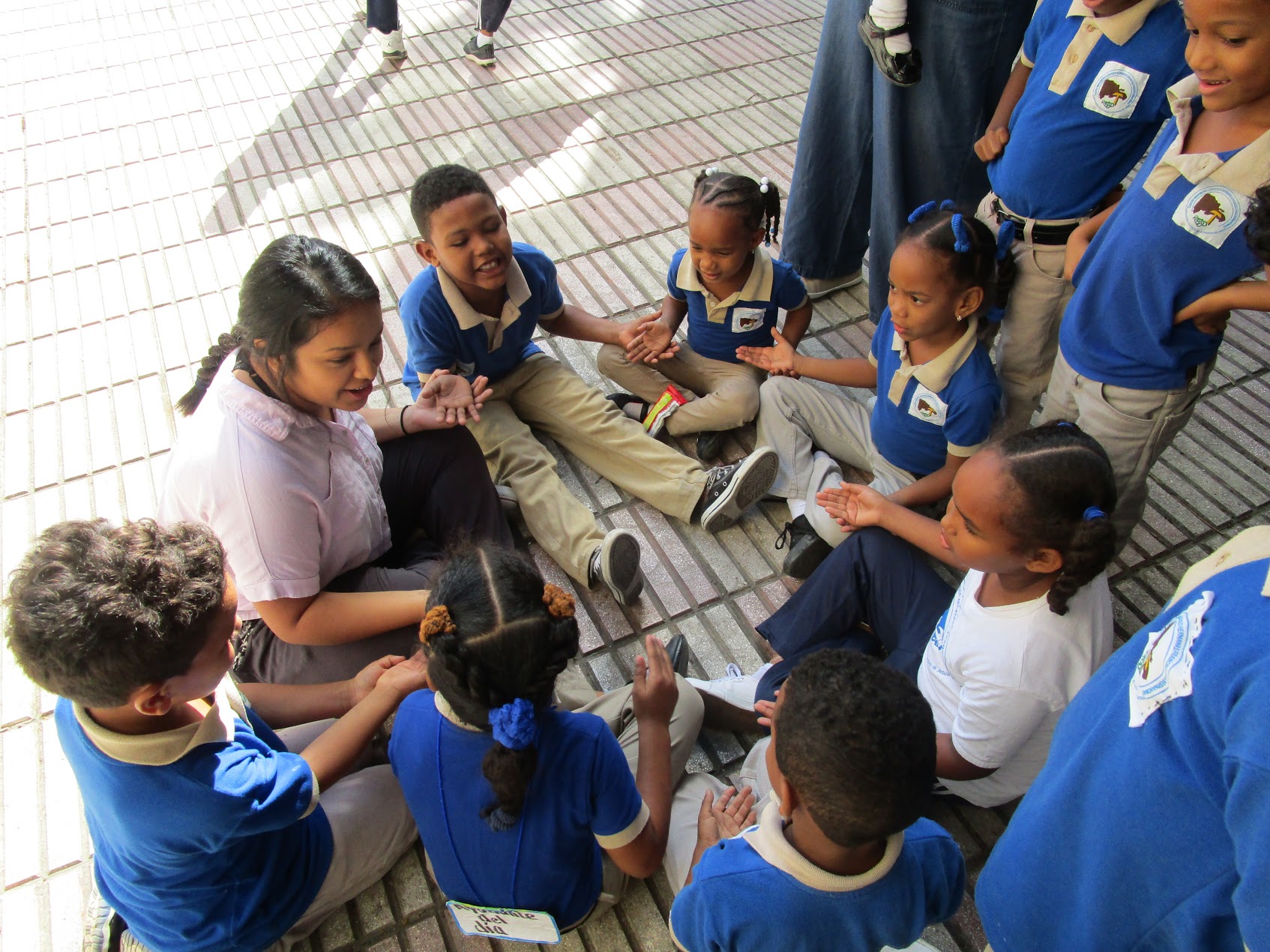 About the Summer of Service Program
The Catholic University of America's Campus Ministry Department runs many programs that allow students to foster relationships with marginalized and vulnerable communities. The Community Service Program mobilizes students to serve in the DC area, and the Service & Justice Immersion Program facilitates one and two week-long domestic and international immersion experiences. In recognition of the opportunities for transformation that arise from being in relationship with our marginalized or vulnerable brothers and sisters both at home and abroad, this year we are rolling out a new, more in-depth program!

The Summer of Service Program is a chance for freshman, sophomore, and junior undergraduate students to partner with volunteer organizations, both domestically and abroad, engaging in approximately two months of direct service, while living in the communities where they work. The purpose of this program is to allow students who are inspired to work for the common good to use their summer to accompany and learn from the communities they in which they live and work.
What Will I Do?
You'll serve at a non-profit organization that has been vetted by CUA Campus Ministry. All of these organizations have some sort of connection with us. Some have CUA alums serving there as full time volunteers, and others have had CUA volunteers there in the past doing long term service.
All three service sites work with a different population. At Annunciation House, you will work with the immigrants. At Andre House, you will work with the homeless. And in Jamaica you will work at a variety of sites, including children's homes, homes for the elderly, and church parishes. Check out the Site Descriptions for each service site to learn more about them.
What do I get from the program?
Room and Board – Each organization provides housing at the site. You will be living with a group of volunteers, who all work for the same organization. All meals are also provided by the organization.
Funding – For domestic site placements, students will receive $2750. For international site placements, students will receive $3000. This funding is to cover flights (students will purchase their own flights) to their service locations, any incidentals such as personal hygiene, etc., and well as help students be able to support themselves during the following school year, since they won't have a full-time paid job over the summer.
How long will I be there?
Service will be for 10 consecutive weeks sometime between May 24th, 2020 and August 7th, 2020. Some service sites would prefer that students arrive in the earlier 10-week period, some would prefer the later 10-week period, and some are indifferent. There is some flexibility here, so if you have concerns, you're welcome to ask. 
What Now?
Click below to start your application for the Catholic University Summer of Service 2020 program! Students must have experience in service to others, either formally or informally, be in good academic and community standing, and be available for ten consecutive weeks during the summer of 2020.
Applications are open through February 9th, 2020. If you are selected for an interview, those will happen on February 12th and 13th, with placement offers being emailed out on February 14th. Upon being offered a placement, you will have five days to accept or decline.
Service Partners
Andre House
Andre House provides up close and personal encounters with the chronically and transitionally homeless and poor. They provide transitional housing, dinner six nights a week with an average of 600 meals/night, showers, bathrooms, phone use, and clothing to those in need. The student volunteers assist with all the functions of the organization, working in solidarity with the guests, staff, and other volunteers to provide a safe, supportive community of service.
Click Here for Site Description and Requirements
Annunciation House
Annunciation House provides shelter to economically poor immigrants and refugees at several houses of hospitality in El Paso. Annunciation House volunteers live and work at the houses of hospitality, and are responsible for the operation of the houses, attending to the needs of the guests, coordinating meals, picking up food donations, assigning chores, helping guests make travel arrangements, doing laundry, and all other things necessary to maintaining a guests.
Click Here for Site Description and Requirements 
Passionist Volunteers International
The life of a Passionist volunteer, whether on the job or off, is deeply rooted in accompaniment.  Rather than attempt to improve the lives of those they encounter with monetary contributions or donations, the volunteers seek first to enter into the lives of the individuals and communities where they work. That said, summer volunteers will help in a local orphanage, home for the elderly, and a church community, while living and working alongside long-term volunteers.
Click Here for Site Description and Requirements 
Frequently Asked Questions
1. Do I go alone?
Nope. Students will be sent in pairs. Two students to Passionist Volunteers International, two to Andre House, and two to Annunciation House. There are no gender requirements, so you may be sent with a student of any gender. You will also be working and living with other volunteers at your service organization. Each site is different, but there will probably be between 6 and 10 volunteers there in total. You'll be living in a community, so you'll get a great chance to meet some other amazing volunteers and staff!  
All housing is at or near the service site. Students will live in community with other long-term volunteers, or other summer volunteers. Many of these volunteers are currently in college, or recently graduated. CUA Students will also be going in pairs, so you housing will be with the other CUA student volunteering at that service site with you.
3. Do I have to pay for housing or meals?
All housing and meals are provided to you by the service organization. But you may be required to do some cooking!
4. Is it safe?
You will be prepared as much as possible by the CUA Campus Ministry staff before you depart for your summer of service, and you will receive an orientation upon arrival to your site. All three of our partners are well-known and highly respected non-profit volunteer organizations, so you can be assured that they will be watching out for you. The sites have strong relationships with the communities they work in, and are able to advise students regarding appropriate safety precautions. If students have concerns, they can speak with their site supervisors, and if need be, may contact the CUA Campus Ministry Office. There will be a CUA Campus Minister on-call all summer in case of emergency.
5. Will I be able to leave during the 10 weeks that I'm volunteering? 
Not really. Participating in the summer of service program means you are committing to being fully present during the time you are there, in order to gain the most possible from the experience. You're encouraged to schedule family vacations or other events before or after your 10 weeks of service, if time allows. There may be some exceptions, so if you have a question, please ask us.
6. I'm not Catholic and not really religious, can I still apply?
Absolutely! Students from all faith backgrounds, as well as students who aren't religious are encouraged to apply. This program is about building relationships with those who are affected by inequalities here in the US and abroad. All of our partner organizations are faith based, and you may be required to attend religious services, but you are not required to be Catholic or religious to participate.
7. Will I be able to see my family over the summer?
There will be several weeks before and after your weeks of service that you can be home with you family. Depending on the site you're working at, the organization may allow your family to come visit you as well! Of course, some sites have changing work schedules, so you may be working some nights or weekends. Each site is different. Feel free to chat with your service site to see if they welcome visits by your family or friends.
8. So I'm getting paid for this?
Essentially, yes. Students who are in Jamaica will receive a stipend $3000, and students at Annunciation House or Andre House will receive a stipend of $2750. From these funds, you will have to purchase your own plane tickets (so do that early!), as well as any incidentals (personal hygiene, clothing, etc.). While at your site, you won't be paying for housing or meals, so a bulk of the stipend you'll be able to save to support yourself during the school year. We know you won't be working at a paid job over the summer, so we want to make sure you can still support yourself, pay for books, etc. A portion of this stipend will be given to students in the Spring, and another portion will be given upon completion of the summer of service.
9. I'm studying abroad this semester, can I still apply?
Certainly! If you are selected for an interview, it may be done over Skype or Facetime.
Other Questions?
We'd love to hear from you! Contact Harrison Hanvey in the Office of Campus Ministry at hanvey@cua.edu or 202-319-5575.