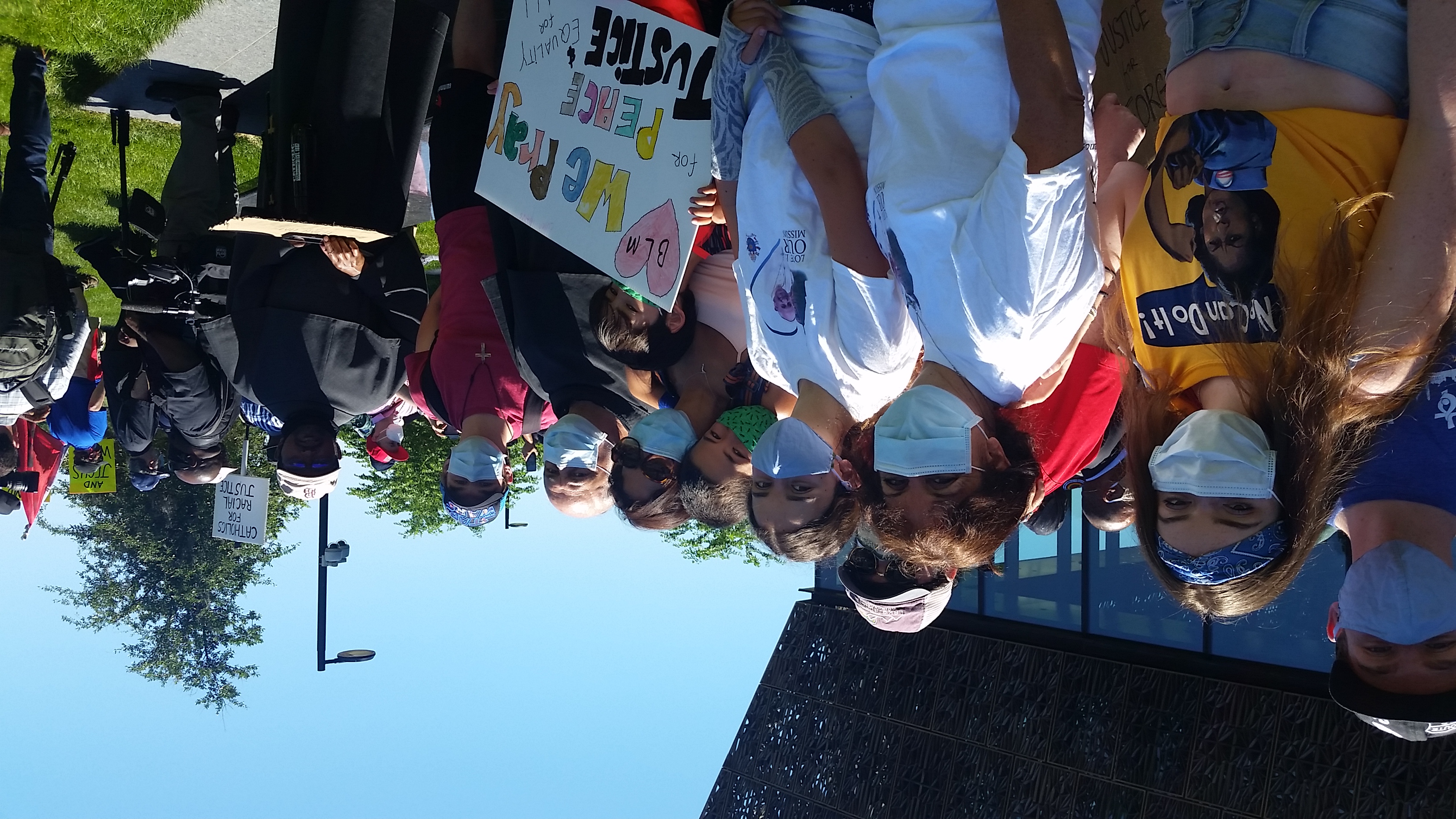 Dear Campus Community,
Along with many others, the CUA Service Team wants to unite our voices with the multitudes demanding justice for the deaths of George Floyd, Breonna Taylor, and Ahmaud Arbery, as well as the countless lives of the marginalized and oppressed that are lost every year due to systemic injustices. We recognize that we have much work to do, both as a society, and as individuals, to root out oppression and racism. May this moment serve as a catalyst for this essential and urgent work.
At this time, we can look to Catholic Social Teaching to be our guide. God and the Church call us to value and prioritize the
Life and Dignity of all Human Persons
: The measure of every institution is whether it threatens or enhances the life and dignity of each person. The Church also says that we should pursue a
Preferential Option for the Poor and Vulnerable
: In a society marred by unjust divisions and inequalities, a basic moral test is how our most vulnerable are faring. Some believe that
Solidarity
is the root of all social teaching: We are one human family, whatever our nation,
race
, ethnicity, socioeconomic status, or ideological beliefs. We are our brothers' and sisters' keepers.
This past January, we chose our theme for our annual Martin Luther King Jr Day of Service:
Now is the time to make justice a reality for all of God's children
. His words ring as true today than they ever have.
We ask that, as people of faith and justice, you join us.
Join us in prayer:
for the friends and family of those lost to senseless violence and prejudice.
Join us in listening:
to the voices of those most affected by marginalization.
Join us in reflection:
to discover the ways that we can work for a more just and equitable country.
Join us in action:
Write letters to your representatives. Peacefully protest and demonstrate. Vote.
We leave you with the words of Archbishop Gomez, President of the United States Conference of Catholic Bishops:
"We should not let it be said that George Floyd died for no reason. We should honor the sacrifice of his life by removing racism and hate from our hearts and renewing our commitment to fulfill our nation's sacred promise — to be a beloved community of life, liberty, and equality for all."
 Sincerely,
 The CUA Campus Ministry Community Service Team
Prayer from Fr. Jude
"We come together to pray.  We pray for justice for all people.  We pray for all who have been marginalized and forgotten in our society.  We pray for all who have lost hope and those who are afraid.  We pray for those whose deaths have outraged a nation and yes, for those who have resorted to violence in return.  We pray for the gift of peace that only God can supply.  A peace that builds bridges among diverse peoples.  A peace that allows for injustice to be exposed and to be replaced by charity and equality.  A peace that is rooted in dialogue and understanding that gives voice to the voiceless and harmony to a troubled nation."  
This prayer was used during a Faculty and Staff Prayer Service for Justice and Peace on Friday, June 12.
Staff and faculty were also encouraged by President Garvey to join a prayer service and march with Archbishop Gergory, local clergy, and other Catholic laypeople at Lafayette Park on Monday, June 8.